Is your online shop ready to go global?
Presenting the 13th edition of ecomTEAM.
Every ambitious online shop knows that only sticking to its home market never works long-term. It becomes crowded as more and more international players break into their client's social media feeds and e-mails with significant discounts and aggressive campaigns once they enter Romania.
From being the elephant in the room in previous conferences, breaking into international markets has become a central focus for many Romanian online shops and our 2023 ecomTEAM edition. Because going international is hard without a strong presence at home, consolidating your position on the Romanian market also remains an important topic on our agenda.
From medium-sized to large online businesses, digital marketing specialists, technology providers, and the biggest courier companies, ecomTEAM 2023, held on 21 and 22 September 2023, offers all the ingredients you need to build a strong presence at home and an exciting international expansion.
Day 1 - Build your way to international expansion at home
Main topics:
🔸e-Commerce Logistics: winning strategies for your online shop
🔸SaaS & international Marketplace platforms: What fits your needs?
🔸How to tailor your online store both for local and global markets
🔸Online shops that inspire: local and international
Day 2 - How to make sure that hard work will pay off?
Main topics:
🔸Cross-border Payments: which methods can boost your sales?
🔸B2B & B2C E-commerce - Retail and FMCG: Challenges and Lessons
🔸Online shops that inspire: local and international
🚀 Don't miss our Best in class workshops!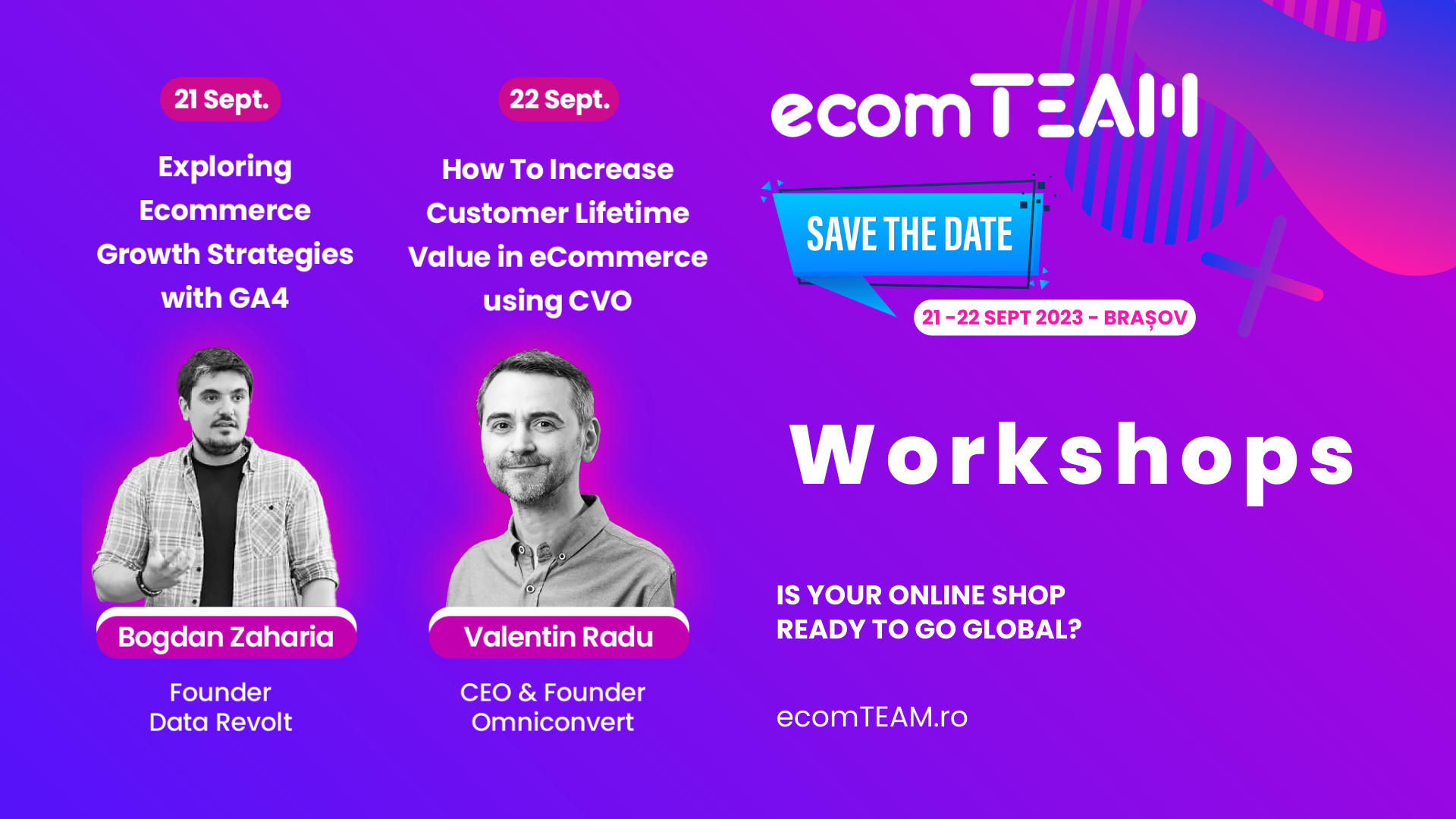 NEW! Unlock the Power of eCommerce with Our Exclusive Agency Partner Package!

Are you a smaller eCommerce agency with big ambitions but limited resources? Don't miss out on this opportunity! Introducing our specially crafted Agency Partner Package, designed exclusively for budget-conscious agencies like yours.

What's Included:
Four (4) Full Access Tickets: Bring your partner/colleague and also invite 2 clients for an immersive experience at ecomTEAM. Learn from industry leaders, gain insights from top experts, and network with like-minded professionals.
Digital Expo Area Page: Showcase your agency's potential to a global audience! Our Agency Partner Package comes with a dedicated digital expo area page, where you can exhibit your services, products, and success stories to potential clients and partners.

Why Choose the Agency Partner Package?

✔Cost-Effective: Get more value for your investment with four tickets bundled together at an unbeatable price.
✔Networking Opportunities: Forge valuable connections with industry influencers, potential clients, and strategic partners.
✔Knowledge & Insights: Stay ahead of the game with access to cutting-edge trends, technology, and strategies driving ecommerce success.
✔Seize this chance to elevate your agency's growth and reputation within the ecommerce community. Limited packages available, so act fast!

Secure your Agency Partner Package today and embark on a transformative journey in the world of ecommerce. Reserve your spot now by visiting the tickets page or contact us at [email protected]. Don't let this opportunity slip away – we can't wait to see you at the event!